Pew Research Center published the results of a post-election/end of the year poll earlier this week. This particular statistic surprised me: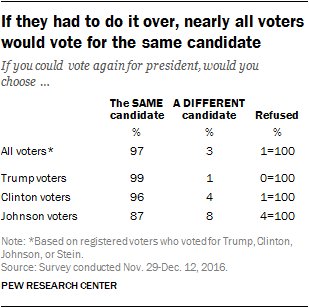 The headline: More Clinton voters regret their vote than Trump voters, though not as many as Johnson voters.  I'm sure those numbers would be different if Clinton had won and Trump had lost. Beyond this, another statistic:
The entire findings of the poll are well worth reading. These nonvoter figures are fascinating and disturbing for both parties as they regroup in the wake of the election and try to figure out how they can get these nonvoters to turn out for their candidates in future elections.
Also, these figures on how partisans from both left and right view the two major parties:
All images/graphs from Pew Research Center.